As a nurse it's likely that as part of your profession you will pay for your own registration into the NMC and membership into one or more professional bodies like the RCN. It doesn't matter if you work for the NHS or a private hospital you can still make a claim, and back date it for the last four tax years.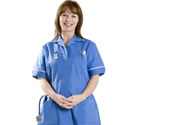 "Just the type of company I like to deal with. No hard sell, just the facts and an offer of your service. It has been a pleasure from start to finish, and I got a refund of over two hundred pounds."
Mrs Reid, Midwife, Kent. Received a £208 RCM tax rebate
What professional bodies can I claim for?
Many but not all professional bodies have an agreement in place allowing tax relief to be claimed back. For example you can claim a Nurse tax rebate for:
NMC – Nursing Midwifery Council
RCN – Royal College of Nursing
RCM – Royal College of Midwives
HCPC – Health and Care Professionals Council
You can also claim tax relief on fees into the union UNISON.
What else can I claim nurse tax relief for?
As a nurse you will usually have other job related expenses which tax relief can be claimed on. Some common expenses include:
Shoes and tights
Specialist clothing
Using your own car to travel to different work place
How can I claim a nurse tax rebate?
Tax Rebate Services specialises in helping Nurses and healthcare workers claim back tax relief on their job related expenses. We can help you find out what you can claim for so you don't miss out on what you're entitled to.
Claiming Nurse tax relief is often time consuming. We make it easy and hassle free so get in touch today on:
0845 094 0005 or 01228 520477 or

Email support@taxrebateservices.co.uk
Tony Shanks