Tax Rebate Services And The NSPCC
Tax Rebate Services takes giving back seriously. By using our tax rebate service you're not only getting money back, you're supporting children that need it the most.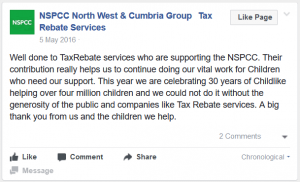 With so many children in the UK relying on the help of charities like the NSPCC we are proud to be able to help.
What does the NSPCC do?
The NSPCC's vision is ending cruelty to children in the UK. The NSPCC are inspired by a belief that they can make a difference for all children – by standing for their rights, listening to them, by helping them when they need us and making them safe.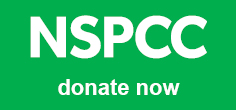 How do they do it?
The NSPCC provide innovative services across the UK focussed on protecting and supporting the most vulnerable children and families.
The NSPCC's local services focus on seven key themes: Neglect; physical abuse in high risk families; sexual abuse; children under one; children with disabilities; children from black and ethnic minority communities and looked after children (children living in care).
The NSPCC provide UK-wide services such as ChildLine, which has now expanded to offer children support and advice online as well as on the phone, and the NSPCC Helpline, which allows adults to inform us of their concerns about a child 24-hours a day.
The NSPCC provide training and consultancy services across the UK to help organisations, groups and others to protect children and are developing a new UK-wide schools service to help younger children stay safe.
The NSPCC share their experience with governments and organisations working with children so together they improve the protection of children and they challenge those who will not learn and change. They campaign for better laws and they educate and inform the public to improve understanding about child abuse.
The value of our volunteer network
The NSPCC is more than just a charity – it is a reflection of the UK's commitment to the prevention of cruelty to children.
ChildLine provided over 290,000 counselling sessions to children and young people in 2014/15.
Nearly 1,400 specially trained ChildLine volunteers were there to support children and young people reaching out to us in times of crisis.
More than 3,000 people gave us their time and energy through taking part in events and challenges including marathons, hikes, treks, swims, cycles and skydives.
In 2013/14 the our team of almost 1,000 ChildLine Schools Service volunteers reached every region of the UK, visiting 4,205 schools and talking to 278,700 children about abuse and how to protect themselves from it.
How many children does the NSPCC help?
In 2014/15:

The NSPCC worked directly with 11,697 children and families.
Through their ChildLine School Service they reached 278,700 children.
A child contacted ChildLine every 20 seconds – some of these children are going through the toughest times of their lives. They found the courage to talk about things like family problems, bullying and depression. Problems that children often feel they can't talk to anyone else about.
ChildLine carried out almost 300,000 in-depth direct  counselling sessions with children and young people
The NSPCC received over 61,000 contacts from adults worried about children.