Trusted Tax Rebate Services
We believe trust is paramount when choosing a tax rebate service for your tax refund. This is why we operate with complete transparency and invited accredited bodies to analyse our services to ensure we're delivering a genuine, trusted, regulated service to our clients.
Although we take no money upfront, we understand that when you invite an agent to deal with your finances, you need to feel confident of their credentials. We're proud to have received endorsement and accreditation from some of the UKs best watchdogs and industries, and will continue to strive for excellence in this vein to ensure you feel completely safe when choosing us for your tax rebate claim.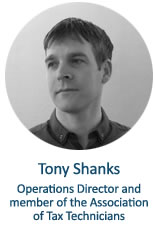 Our Operations Director
Our operations director, Tony Shanks, is a fully-fledged member of the Association of Tax Technicians. This ensures he follows a strict code, that all our agents practice. He ensures the entirety of Tax Rebate Services behave professionally and ethically, comply with the industry best practices and keep up to date with skills and competence.
We are all serious about operating with accountability and never underestimate the importance of the trust you place in us to deal with your tax and accounts.
Reviewed and Approved by The Consumer Voice
The Consumer Voice is a UK Watchdog that assesses companies to ensure they provide a trusted service alongside value to their customers. We are proud to have been reviewed and approved and recognised as a company that operates ethically and within our client's best interests.
Our Philanthropy
We believe in giving back which is why we regularly donate to our chosen charity the NSPCC. We're proud of the thousands of pounds we've raised for this crucial charity in the UK.
Complete Transparency
We operate with complete transparency. We never take money up front, and we keep you informed every step of the way. We are a limited company; our registration number is 5079178 and our fees are laid out here.
We feel privileged to act on your behalf to claim the money you're entitled to with a tax refund. Please do take a look at our many five star reviews from happy customers.