About Tax Rebate Services
Thanks for taking the time to visit our website. Here's a bit about us and our services.
Our background
Tax Rebate Services TM  was started in 2002, in response to the demand from taxpayers who need to claim a tax rebate. Paul Donohoe, TRS Managing Director, is driven by three goals:
To help people get back the money they are legitimately owed
To save UK tax payers time and money.
To support the NSPCC the UK's leading childrens charity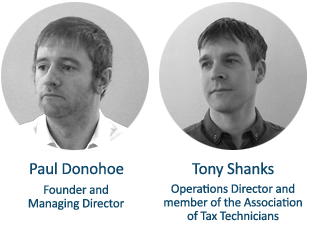 Our tax services
We offer a range of tax services for:
Tax Rebate Services is rated
We are very good at what we do but you don't have to take our word for it. You can find out more about what our clients have to say about Tax Rebate Services on our reviews page. The reviews are collected independently and validated by Reviews.co.uk.
Free tax stuff
We think it is important that all taxpayers understand the basics of our taxation system. TRS provides popular free tax guides and calculators in order to make this knowledge more accessible to everyone. We also have Tax Rebate Services Money which has money saving tips, calculators, and guides.
This commitment to providing free resources to help people self educate is an important part of our 'giving back' philosophy.
The way we work
When you use our service, your tax claim will be managed by our professional accountants who are qualified members of the Association of Tax Technicians, and the Institute of Chartered Accountants. Tony Shanks is our operations director and is a member in practice of the Association of Accounting Technicians.
When you deal with us you'll find that we:
Are professional
Offer outstanding value
Provide excellent customer service
Growth
Working as an online business has the enormous benefit of allowing us to keep fees low without compromising on the quality of our service; resulting in our growth into a leading UK tax rebate service. It has also enabled us to welcome an increasing number of international clients from around the globe and introduce our popular Self Assessment tax return and Accountancy services.
Your data is protected
Tax Rebate Services is registered under the Data Protection Act 1998 and have signed up to the ICO personal information promise.  We adhere to the guidelines put in pace by GDPR and you can out more about our privacy and cookies policy here. This means your information is handled confidentially and securely. We'll never sell your details to a third party or send you nasty spam.
Supporting charity
Giving back is crucial to our company philosophy.
Tax Rebate Services has been donating to the NSPCC since 2011 and we are proud to be able to help the most vulnerable children and families of the UK.
You can find out more about Tax Rebate Services and the NSPCC here.
Legal stuff
www.TaxRebateServices.co.uk Ltd is a registered Limited company registered number 5079178. Find out more about our legal terms of service