Construction Expenses Of Employment Guide
Being employed in the construction industry often means you have to pay for your own travel costs, tools, and protective clothing. As an employed construction worker you can claim back tax relief on your expenses for the last four tax years.
IMPORTANT - If you don't make a claim you won't receive back the tax relief on expenses you are entitled to.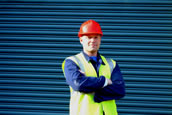 "Thanks very much for the cheque. I've been using my car for years, but didn't know I could claim tax back. I will be recording all my work travel miles from now on!"
P Graves, Site Foreman, Wales,
Received a £3300 mileage tax rebate
Tax relief for expenses of employment – what can I claim for?
Tax relief for travel expenses
If you have to travel to different sites which you attend for less than 24 months, you can normally claim back tax relief on the cost of your travel costs. You can claim tax relief for:
Using your own car, van, or motorbike
Using public transport
You can only claim back tax relief on the cost of journeys to a temporary workplace, and not normal commuting to one permanent place each day.
Tax relief on tool expenses
The cost of buying your own tools for work can add up over the years. You can claim tax back on your tools if you have to buy them for work, and you aren't reimbursed by your employer.
Tax relief on protective clothing
HMRC allows tax relief for purchases of protective clothing for example gloves and boots. To qualify the item must not be supplied by your employer, the cost of the item purchased must be met personally and not reimbursed by your employer.
Tax relief on washing protective clothing and uniform
A laundering of protective clothing or uniform allowance can be claimed. As long as you have to meet the cost of washing your protective clothing or uniform yourself, a tax rebate can be claimed.
Tax relief on accommodation and subsistence expenses
Working away can be costly. If you are not reimbursed in full by your employer - or you are paid an allowance which is taxed, you could be eligible to claim tax relief on the expense of your accommodation, and food and refreshments ( subsistence ).
How do I make a claim?
Tax Rebate Services specialises in helping construction workers claim tax relief on expenses. We use qualified accountants to make the process simple and hassle free for you. As a member of the AAT you can guarantee your claim will be dealt with safely and securely.
To make a claim just fill in an easy PAYE tax rebate form or call 0845 094 0005 or 01228 520477 today.