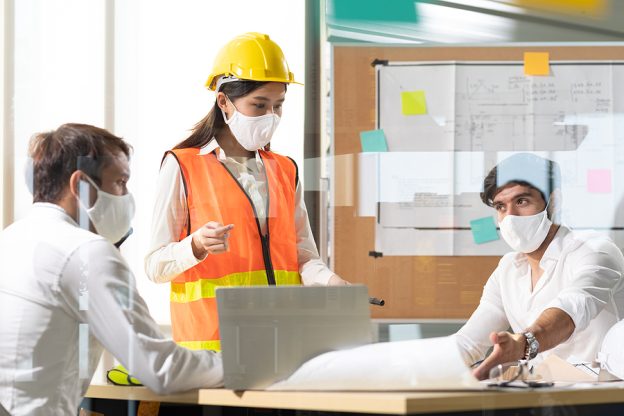 The cost of building materials has rocketed by 20% on last year's prices. Considering all the other difficulties for the industry, will this be the final straw for the government's 'build back better' plans?
Construction industry in wider economic context
The construction industry accounts for 6% of the UK's economic output and is worth £117 billion. Building projects are a crucial element of our overall economic recovery. As chief UK economist at Oxford Economics, Andrew Goodwin, tells The Independent: "If people stop doing building work because they know they'll face delays, that will start to have a real effect on the wider economy."
People won't be keen to spend their lockdown savings on a construction that's going to be severely delayed and overall confidence in the industry will take a hit.
What problems are the construction sector facing?
If you're working in construction, all of this will sound very familiar. This recipe for disaster involves the following ingredients:
Shortage of qualified workforce
Global supply issues
Red tape due to leaving the European Union
Delay to deliveries in the UK
Rise in cost of materials
This combination of problems is hammering construction projects, particularly when it comes to meeting project deadlines. The inevitable impact on the cost of materials and transportation is depressingly predictable.
Are the government helping to resolve any of these issues?
Within each of these issues are layers of details and several ways that government can support the industry. But this hasn't been forthcoming, so far.
For example, the logistical nightmare is partly down a simple lack of lorry drivers since Brexit. But the other element is bottlenecks in shipping at a worldwide scale, caused by the impacts of COVID-19. Despite repeated requests, HGV drivers aren't on the government's shortage occupation list.
Another example is the lack of skilled construction workers, again due to the repercussions of the UK leaving the EU. The government's new immigration system is not helping to resolve this serious lack of expertise. Just like in the UK, many of our European construction counterparts are self employed. And, as Professor of Economics at Kings College, Jonathan Portes, explains: "It's actually quite liberal for employed people on medium and higher incomes. But there's no provision for the self-employed." So the problem persists.
Smaller construction companies suffering the most
Around 90% of the construction industry is made up of smaller companies. And they are being hardest hit by all of the current problems. Taking the most recent rise in cost of materials as an example. Larger companies can save money by stockpiling resources (an option not available to smaller companies).
As you can't build without the necessary materials, lots of their projects are being interrupted, delayed, or completely put on hold. The scale of this can be seen from a recent survey carried out by the Federation of Master Builders. They found that 98% of small building firms are seeing prices go up and expect this to carry on through the rest of the Autumn period. Businesses are reliant on the understanding of their clients when their work can't be done to the agreed deadline. Leading to frustration all round.
Larger companies may be better weathering the storm, but they are feeling the negative impact of all these issues existing simultaneously. For example, in their AGM memo, Berkley Group say:
"While the sales market has been resilient, the operating environment remains challenging.  As reported in the wider market, and in line with our year end results update, we have continued to experience inflationary pressure in build costs during this period, principally through materials, and we are mindful of ongoing issues in the supply chain and labour market resulting from Brexit and the pandemic."
Whatever the size of your business, any support from the government to ease any of these serious problems would be welcome. In the meantime, we can help with other things like your CIS tax return and your tools tax rebate. Just drop us an email, or give us a call and we'll keep that side of things fully on track together.
Tony Shanks
Operations Director
Member of the ATT