A Guide To Claiming Tool Tax Relief
Do you buy your own tools for work?
Claim tax back on your tools today
If you are employed and have to buy tools for your job, you should be able to claim tax back on the cost. Tax relief is allowed on the amount you have spent - if you have not been reimbursed by your employer. It doesn't matter what your job is, if you buy the tools you can make a claim!
Tax Rebate Services gets an average tools tax rebate of over £900!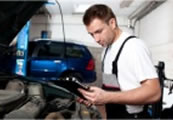 "The money is better off in my pocket than the tax mans. I'm just glad I found your company online. The service you provide was professional from start to finish.
I have passed on you details to my work mates."
F Gregory, Vehicle Technician, Cheshire,
Received a £935 Tools Tax Relief    
Can I claim tax relief on my tools?
Tax relief can be claimed on your tools and equipment if you have to buy them to do your job. To be eligible to claim tool tax relief you must:
Buy tools and equipment that are needed to do your job
Pay for your tools yourself
Not be reimbursed by your employer
Have proof of purchase - for example receipts
How much tax back on my tools can I claim?
On average you can claim back between 15% to 20% of the total cost of the tools you have bought.
I don't have receipts can I still claim tool tax relief?
If you don't have receipts a claim can still be made for a tool allowance. A tool allowance is given without the need for receipts. Many industries have agreed different tool allowance amounts with HMRC. For example a Mechanic can claim a tool allowance worth £120 per tax year.
How far back can I claim tool tax back?
The timescale for making both a tool tax rebate and tool allowance claim is four tax years. In some cases you can still claim tax relief on tools that have been bought earlier than the last four tax years, as long as they are still in use.
How do I claim tool tax relief?
Tax Rebate Services specialises in claiming back tax relief on tools. We use qualified accountants to make the process simple and hassle free for you. As a member of the AAT you can guarantee your claim will be dealt with safely and securely.
To make a claim just fill in an easy tools tax claim form or call 0845 094 0005 or 01228 520477 today.