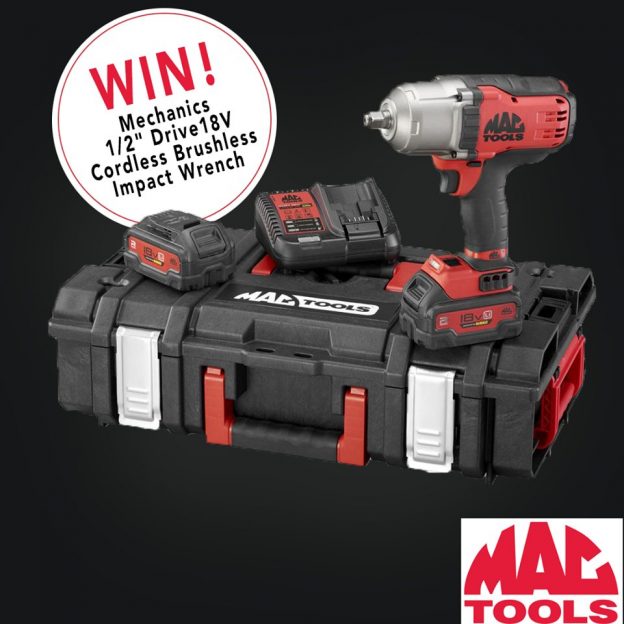 We've put together a superb #FreebieFebruary giveaway competition with our partner, MAC Tools.
All you have to do is go onto our Facebook page and follow the instructions.
What's the prize?
Your prize is one MAC TOOL 1/2″ Drive18V Cordless Brushless Impact Wrench Kit worth hundreds of pounds.
It's a great bit of kit.
It has impressive specs, including:
1,625Nm breakaway torque
950Nm fastening torque due to the combination of the brushless motor and heavy duty impactor
Simple adjustment of torque and speed, change direction with one hand
Robust durability
Lightweight and narrow grip for ease of use
An 'intelligent switch' stops the tool and battery from becoming over heated or over loaded. This reduces wear and tear of both.
And it is powered by DEWALT XR 5.0Ah R Spec Li-Ion Battery Technology.
Everything comes in a strong smart ToughSystem Kit Box. This purpose built box keeps out most of the elements that can damage your tools. If you've already got other ToughSystem Kit Boxes, this one will fit right in.
This is a great addition to anyone's toolbox. Whether you're an apprentice building up from scratch, or a seasoned mechanic that always appreciates a new tool. You can't go wrong with one of these.
What do I have to do to win?
You need to hop onto Facebook and do two things:
Give the post some love. Click on that heart.
Type the hashtags, #MACToolGiveaway and #FreebieFriday in the comments section.
Top tip: Make sure you double check your typing. Misspelled hashtags will not be counted.
What are the other competition rules?
There are the usual terms and conditions that you can see in full here.
The main things you need to know right now are:
The competition closes on 23:59 on 29/02/2020
You must be 16 or over to enter
Only one entry per person
The winner will be randomly selected on 05/03/2020. If you're the winner, we'll private message you within seven days of this date
There is only one winner
The prize one MAC TOOL 1/2″ Drive18V Cordless Brushless Impact Wrench Kit. No swapping for something else or cash alternatives
What are you waiting for?
Get on Facebook, love the post and type the hashtags.
Could not be simpler. There may only be one winner, but it definitely won't be you if you don't enter. Good luck!
Tony Shanks
Operations Director
Member of the ATT