Uniform Tax Rebate Guide
Claim My Uniform Tax Rebate Today:

Do You Wash Your Own Uniform? If "Yes" you should read on ...
Who can claim a uniform tax rebate?
To be able to claim a uniform tax rebate you must meet the following conditions …

You have to wear as part of your job a branded uniform like a Nurse or Fireman - in some cases a uniform with a detachable name badge may be allowable

You meet the cost of washing your own uniform

You are not reimbursed or provided laundering facilities ( even if you don't use them ) by your employer

You have paid tax in the year of your claim

You can also claim if you wash your own protective clothing worn for work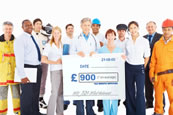 "Many thanks for the very efficient way you dealt with my Tax uniform rebate with refunds being returned by HMRC. You took care of it all which I am sure pursuing HMRC is somewhat daunting to a lot of us. I will certainly recommend your company, I know colleagues have mentioned you on Facebook."
Mr M Pollard, Gwent , Received a £257 uniform tax rebate
Uniform tax rebate - how much can I claim?
The amount you can claim back is normally £60 per tax year but this does depend on the type of industry you work in. Some industries have higher allowances meaning you can claim more back.
How many years can I claim a uniform tax rebate for?
A uniform tax rebate claim can be made for the last four tax years and you don't have to be with the same employer to be able to claim.
Can I claim a tax rebate for anything else?
In many cases you could be due more back than just a uniform tax rebate. You can claim a tax rebate for…
Paying into some but not all professional bodies
Using your own car or public transport for work purposes ( not normal commuting )
Buying your own tools and protective clothing for work use
Any additional tax relief can be claimed back at the same time as your uniform tax rebate claim and can significantly increase the tax rebate you are owed.
How do I claim a uniform tax rebate?
Tax Rebate Services specialises in claiming back uniform tax rebates. We use qualified accountants to make the process simple and hassle free for you. As a member of the AAT you can guarantee your claim will be dealt with safely and securely.

To make a claim just fill in an easy uniform tax claim form and we'll call or email you back

Download the uniform tax rebate claim PDF forms – quick and easy

Call  0845 094 0005 or 01228 520477 between 8.30 am and 4.30 to speak to a tax rebate expert