Claim Uniform Tax Back Today
Start My Uniform Tax Back Claim Today:
Do launder your own Uniform for work? Claim uniform tax back ...
If you have to launder your own uniform  or specialist clothing for work you could be due uniform tax back. Tax Rebate Services specialises in claiming tax back for uniforms. We take the hassle out of claiming, and make sure you get back everything you are entitled to. You can make claim for the past four tax years, plus your tax code can change, saving you more in the future as well!
Expert uniform tax back service
We are regulated by the AAT and use qualified accountants. Our customer service and reputation is second to none.
Largest uniform tax back guaranteed
Using our knowledge we'll make sure you get as much as possible in the shortest time.
About Tax Rebate Services
With our service there is no risk in making a claim because we have a no tax back no fee policy. We have a 98% success rate with an average uniform tax claim worth over £250.
Remember, if you don't make a claim you won't get back what you are owed.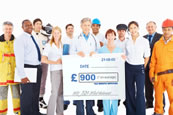 "I'd been on the wrong tax code for years, Tax Rebate Services managed to sort it for me and claimed back a uniform tax refund for me."
Mr M Pollard, Gwent ,
Received £257 uniform tax back